Organise with DIY Storage ideas!

Food storage containers are one of the trickiest things to store and organise. If your kitchen is small and lacking storage space, these containers can be even more annoying! Utilise every possible space that will not only keep your food storage organised but your containers.
Even if you've tried several different ways to store your food containers to no avail, there might be some things you haven't tried. We've listed some of the best DIY solutions to store food storage containers below.
DIY tip 1 – Stack container lids in plate racks
With a similar flat surface, you can store container lids in plate racks to keep everything organised by size and colour. Look out for dish drying racks when you're at the shops to find something that works for your kitchen.
DIY Tip 2 – Try felt storage boxes as dividers
To keep containers and lids organised, try using felt storage boxes to store containers and lids together by size. You can find felt storage boxes in the laundry and washing section at different stores such as Kmart, Target and Big W.
DIY Tip 3 – Add tension rods to drawers
Installing tension rods in your kitchen draws will provide a way to keep container lids organised. Place the rods in the drawer leaving a small space to stack several lids. You can buy tension rods at most home storage or office supply stores.
DIY Tip 4 – Try drawer dividers
Keep containers and lids separate by adding drawer dividers. Any drawer dividers will work as long as it keeps your containers and lids organised and easy for you to reach. With drawer dividers, you can create any size section from utensils to cookware.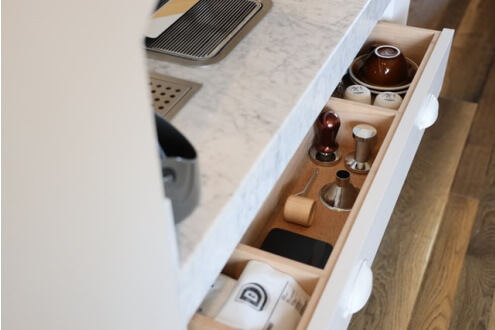 DIY Tip 5 – Place a pegboard in drawers
Another great way to keep your containers and lids organised is with a pegboard. You can buy a pegboard at most shops that stock home organisation and office supplies. Pegboards are not only a great organisational tool but the finished product looks amazing and neat.
DIY Tip 6 – Install a magazine organiser
Lids are probably the most annoying part of storing food containers. To keep lids in order, try adding a magazine rack to the inside of your kitchen cupboard door. You can install a magazine rack on the inside of your cupboard by using stick-on hooks to hang the magazine rack. Just make sure the organiser has holes big enough to fit over the hooks.
DIY Tip 7 –  Repurpose a box
Rescue a box destined for recycling and cut off the top and one corner to create an organiser for your container lids. This trick is great because it's organising your organisation efforts and saving you space.
Get sorting today!
There are so many ways you can turn a mess of food containers and lids into an organiser's dream. Without good storage plans and tricks, you can find yourself missing lids or mismatched containers taking up your precious storage space. If DIY isn't your thing, know that there are ready to buy solutions that can help you organise. If you want to have some fun and DIY things, Try the options above to keep your kitchen tidy and organised.